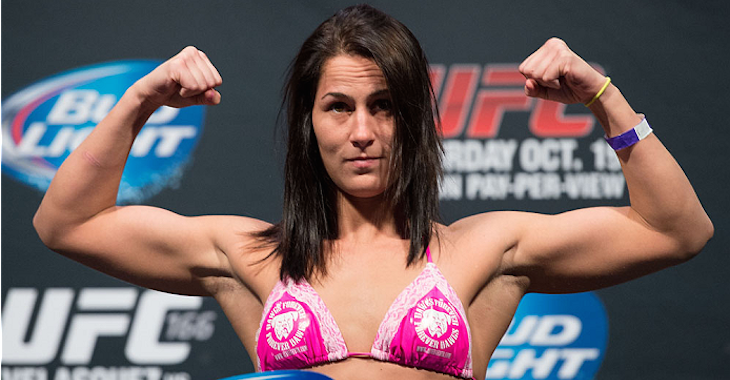 This MMA preview is brought to you by the official sponsor of all things MMA and Boxing at NEOSI, the world class Workout Factory. You can visit them in person, and get the best workout of your life. They are located at 5508 Ridge Rd, Parma, OH 44129. Call today to schedule your first visit 440-476-6470. You can visit them online here.
It was a big win earlier this morning from Singapore for Cleveland's Favorite Daughter Jessica Eye.  A woman who was once considered one of the hardest strikers in MMA had fallen on rough times.  Losing four straight dating back to earlier this year.
She broke the losing streak with a win by Split Decision on January 14th over Kalindra Faria.  Her win today over Jessica Rose Clark was a much different story as the Rootstown Native humbled Clark from start to finish.  Eye is now 2-0 since moving to Flyweight and has her eyes set on the championship gold currently held by Nicco Montano.
Montano is set to defend her gold against a very tough challenger in Valentina Shevchenko on July 27.  That is actually a bout where the challenger is favored as many believe Shevchenko is already the uncrowned Women's Bantamweight Champion after two close decision losses to current champ Amanda Nunes.  Eye would be a dangerous challenger for either woman.
Eye was very emotional in the cage after the big win, and continued to share that emotion only minutes ago on Twitter as shown below.
We did it @StrongStyleMMA https://t.co/f4is54Bf6W

— Jessica Eye (@jessicaevileye) June 23, 2018
I am proud of myself ?

— Jessica Eye (@jessicaevileye) June 23, 2018
On my flight reflecting over their past two weeks In Singapore . Thank you soooo much to @EvolveMMA for opening the doors to me . It felt like home everyday I walked in . Forever grateful

— Jessica Eye (@jessicaevileye) June 24, 2018
I sure my post fight speech made some fans & created some haters . Some of you only see a fraction of me and who I am . I am a fighter yes but I am emotional driven woman . Sometime I say to much when I am happy and something I don't say enough.

— Jessica Eye (@jessicaevileye) June 24, 2018
All I know is I am just doing me & growing up in the hardest sport out there. I am giving myself a chance to find out who I am, all the while constantly being judge about everything I do and don't do. I am happy who I am becoming there a lot more to me then what's in the octagon.

— Jessica Eye (@jessicaevileye) June 24, 2018
I'll work so hard to get there and I know I need some work https://t.co/YeQdqFqr1C

— Jessica Eye (@jessicaevileye) June 24, 2018