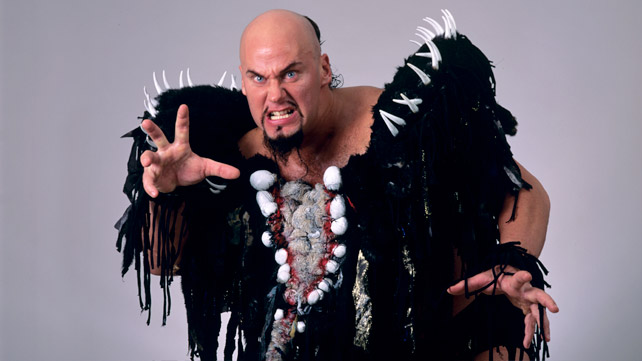 Over the years in WWE and especially when it was known as the WWF we have seen some very colorful "hometowns" of wrestlers.  Usually these hokey names are made up towns, but every now and then they weren't and it made for some great fun.  Here below are my personal top 10, let's hear some of yours in the comments below.
Enjoy!
"Decaytur" Illinois – A pefect home town for the demented dentist with the yellow teeth knowns as Issac Yankem DDS.  The gimmick wouldn't last, but Glen Jacobs would go on to play one of the most notable characters of all time as "Kane", the evil half brother of The Undertaker.
Terry Funk was from the Double Cross Ranch
Death Valley – The home town of the "Deadman", The Undertaker.  You see, because he is dead… makes sense!
3 Mile Island – Atom Bomb hailed from there, as he was the survivor of a 3 mile nuclear explosion.  The only thing to "bomb" was his career, despite the colorful tights.
Truth or Consequences – This hometown for the lovable Mick Foley as he portrayed Cactus Jack for the first part of his career, was actually given to him by local mail man from North East Ohio, Hank Hudson.
Parts Unknown – While several WWF wrestlers from the 1980's and even 90's hailed from Parts Unknown, no one did it as well as The Ultimate Warrior.
The Dudley Boyz were from Dudleyville.  It just makes sense and it is that easy!
Max Moon was from outerspace, which was pretty cool, but most recently, Brodus Clay was from "Planet Funk".  Pretty hard to top that!
Hollywood California was the hometown of the colorful Goldust.  When you consider that the man playing Goldust was a tough rugged Texas cowboy named Dustin Rhodes, it was pretty damn good how well he pulled it off!
Finally, the winner for the best, or worst depending on how you want to look at it, hometown, is…….
Damien Demento with the ever popular "Outer Reaches of your Mind".  Even The Goon who resides from "The Penalty Box" thought it was pretty gosh darn cool!
Now, lets hear yours!

NEO Sports Insiders Newsletter
Sign up to receive our NEOSI newsletter, and keep up to date with all the latest Cleveland sports news.