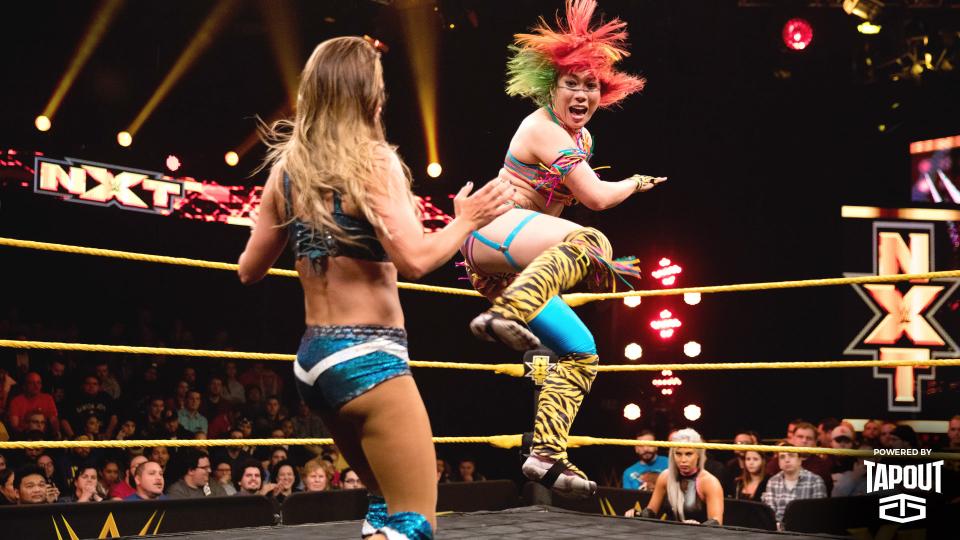 Match 1: Elias Samson vs. Johnny Gargano
Samson starts off on the offensive attack, locking in an armbar on Johnny. He throws Gargano into the corner and starts to punish him. Gargano fights back and throws Samson off the ropes, just to have Samson hit him with a running forearm. Johnny starts to get rolling offensively, reversing a corner attack by Samson with a kick. After a scramble leading to a roll-through kick, Gargano catches Samson in a roll-up pin for the surprise victory. After the match, Samson ambushes Gargano. Before he can really hurt Gargano, Apollo Crews comes down and confronts Samson, forcing him to walk away.
Winner: Johnny Gargano
Match 2: Rich Swann vs. Finn Balor
Balor starts off with a front headlock on Swann. Swann gets to the ropes to break the hold and allow both men to start in the neutral position. Balor gets an armbar on Swann which Balor switches to a headlock. Swann reverses the hold, just to get caught in a hammerlock. Swann fights out and starts to pick up the pace offensively with a dropkick. He follows up with a side kick. Swann charges at Balor in the corner just to be met with a boot to the face. Balor jumps onto the top turnbuckle just for Swann to hit a hurricanrana on him. Swann dropkicks Balor out of the ring, which allows Balor to regroup. Swann tries to go for a diving attack outside the ring but Balor is there to meet him with a running forearm when he comes off the ropes. Balor throws Swann outside of the ring and dropkicks him when he tries to climb back up on the ring apron. Balor proceeds to hit a running kick on Swann from the ring apron. Finn hits him with the running dropkick and hits Coup de Grace. Balor isn't done, as he picks Swann back up and hits Bloody Sunday. Balor goes for the cover and gets the three-count.
Winner: Finn Balor
Emma and Dana Brooke Interview
The girls are asked what will be different about Emma's match with Asuka later on in the night. Emma says she has learned a lot, as Dana adds she has helped Emma. Dana says she has been hurt by Asuka and that Emma will take care of Asuka for her. Emma says she should be facing Bayley for the NXT Women's Championship at NXT Takeover: Dallas, not Asuka. She says that Asuka may be the Empress of Tomorrow, but she won't make it past today.
Match 3: Alexa Bliss vs. Sarah Dobson
The two tie up to start the match, as Dobson hits an armdrag. She follows up with a dropkick and Bliss looks shocked. Bliss is talking to the referee as Dobson charges at her, just to have Bliss use her own momentum to throw her into the bottom turnbuckle. Bliss starts to take out her frustration on Dobson, landing numerous strikes and kicks. Bliss starts to mock Dobson, which leads to a roll-up pin attempt by Dobson. Bliss kicks out and comes back with a knee to the midsection of Dobson. Bliss gets Dobson into a submission hold to inflict more pain on her. Bliss lets go of the hold but stays aggresive. Dobson is able to get some offensive momentum going, rolling off of the turnbuckle and onto the apron after being irish whipped by Bliss into the corner. Bliss charges at Dobson, who hits Bliss with a kick to the face followed up by a diving knee from the top turnbuckle. As Dobson picks Bliss up, Bliss hits her with a forearm to the face. Bliss charges at Dobson but she moves out of the way, causing Bliss to land into the ropes. Dobson goes to follow up with another attack but Blake distracts the referee and Murphy moves Alexa out of the way. Alexa capitalizes and punishes Dobson some more before going up to the top turnbuckle and hitting the Sparkle Splash. Alexa goes for the cover immediately and gets the pinfall victory.
Winner: Alexa Bliss
Samoa Joe Interview
Before anything can be asked, Samoa Joe looks like a man on a mission and walks away. After the commercial break, Bull Dempsey starts to make his way to the ring. Dempsey doesn't even make it down the ramp before he gets attacked by Samoa Joe, who locks in the Coquina Clutch on Dempsey. Joe heads to the ring and takes out the competitor in the ring with the Coquina Clutch. Joe yells that he is coming for Balor, saying Balor will not survive and that he will take his title at NXT Takeover: Dallas.
(Video Package of American Alpha)
Match 4: Emma vs. Asuka
Emma starts off aggressive, but almost gets hit by a roundhouse kick by Asuka. Emma continues to be aggressive, hitting a shoulder block after being thrown into the ropes by Asuka. Asuka catches Emma's foot after she bounces off the rope. After Emma fights out of a headlock by Asuka and throws her into the ropes, Asuka returns the favor and hits a shoulder block on Emma. After dodging a clothesline, Asuka mocks Emma and then catches her in a jumping armbar. Emma quickly gets to the ropes and goes onto the ring apron. Asuka sees an opportunity and goes off the ropes, landing a flying hip attack on Emma. NXT goes to commercial break. After the commercial break, Asuka is in control of Emma. Asuka attempts numerous submission moves in a row, from a hammerlock to a kneebar and into a ankle lock. Emma is able to get on one foot and roll through, throwing Asuka to the outside. As Asuka gets back up onto the ring apron, Emma takes out her legs. Emma starts to punish Asuka, wearing out the Empress of Tomorrow. Emma locks in a chinlock, but Asuka battles out. Asuka starts to get her offense going, but Emma stops Asuka's momentum by grabbing her hair and throwing her to the mat. Emma goes back to a submission hold to weaken Asuka some more before throwing her into the corner and putting her into the Tree of Woe. After kicks to the back of Asuka's head, Emma slides outside of the ring and pulls Asuka's hair, contorting her body. Emma gets back into the ring and distracts the referee, allowing Dana Brooke to pull Asuka's hair and inflict more pain onto Asuka. Emma follows up with the Emma-mite Sandwich. Emma goes for a cover but Asuka kicks out at one. Asuka starts to let out a scream, as she tries to get back into the match. Emma tries to keep inflicting damage, but Asuka gets her offense going with a flying hip attack. After a flurry of offensive attacks, Emma delivers a forearm to Asuka that knocks her to her knees. Emma dropkicks Asuka into the ropes and Asuka hits Emma with a hip attack off the ropes. Asuka goes for the cover, but Emma kicks out. Asuka looks to stay on the aggressive, but Emma reverses and drives her into the corner and looks to steal the victory with her feet on the rope during a roll-up pin. The referee catches her and while Emma is arguing with the referee, Asuka catches her from behind with an ankle lock into a German suplex. Asuka follows up with a running kick and then gets Emma into the Asuka Lock, forcing her to tap out.
Winner: Asuka

NEO Sports Insiders Newsletter
Sign up to receive our NEOSI newsletter, and keep up to date with all the latest Cleveland sports news.