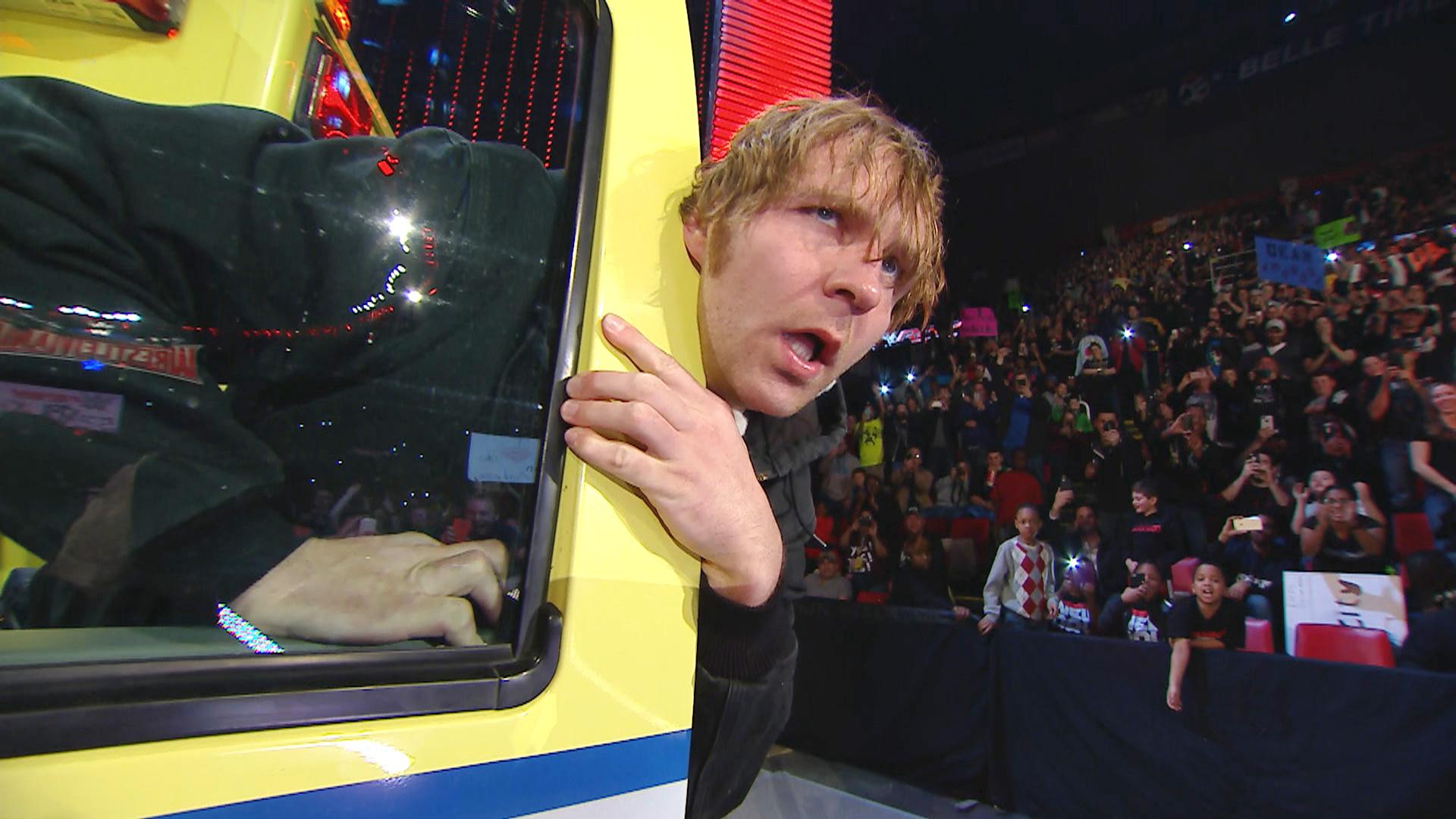 Opening Segment:
Vincent J. McMahon Legacy of Excellence award goes to Stephanie McMahon. Shane McMahon is back! Well I guess we can expect a couple of surprises heading into WrestleMania season. It is amazing to see Shane O Mac to be so over with the fans. Shane wants control of Monday Night Raw. Shane has to face off against the Undertaker in a Hell in a Cell match at WrestleMania for control of Raw/ the company. Oh…My…Gosh…
At first I hated the fact Stephanie won this award but the whole segment paid off and I love it. It's times like this I wish Undertaker was still undefeated because if Shane McMahon ended the streak for control of the company it would get interesting very quickly.
Neville and Lucha Dragon vs New Day
New Day is starting to run through the competition on the main roster. New tag teams have to form or else WWE needs to start to call up some NXT tag teams. Awesome to see a team not named the Usos face the New Day for once. The flips got insane close to the end of the match.
WINNERS: New Day via Kofi Trouble in Paradise
After Paul Heyman cuts another fantastic promo Dean Ambrose comes back to the arena driving an ambulance after being taken to the hospital before Monday Night Raw. Ambrose challenges Lesnar to a fight at WrestleMania in a No Holds Barred match. Lesnar accepts the challenge. WrestleMania is looking pretty good already and only three matches have been announced.
The Usos vs The Ascension
I was actually willing to give this match a chance but instead it turned into a squash match that the Usos won. That was a waste.
WINNERS: Usos via splash
Chris Jericho/AJ Styles segment
Jericho congratulates Styles and goes on to say that Styles has what it takes to belong in the WWE. Jericho and Styles shake hands and as that happens the Social Outcasts interrupt them. Apparently AJ Styles and Chris Jericho are now a team. I like that but I don't want it to last forever, which it won't.
AJ Styles and Chris Jericho (Y2AJ) vs Heath Slater and Curtis Axel
If this is going to be an actual tag team for Styles and Jericho I can accept that. I was shocked that Social Outcasts were giving this much time in the ring with Jericho and AJ plus they didn't look that bad either, I am impressed.
WINNERS: Y2AJ win via Walls of Jericho
Bray Wyatt, Luke Harper, and Erick Rowan vs Big Show, Ryback, and Kane
Let us just start it off this way, why is this a rematch from Fastlane. This is absolutely ridiculous the match at Fastlane was rough to see one time but a second time, really WWE? I like the fact that Ryback is trying to enhance his move-set but he still isn't impressing me, a big guy like him shouldn't be doing some of those moves. This match went on far to long. I want to question why Ryback walked out on his team but I truly don't care.
WINNERS: Wyatt Family via Sister Abigail from Bray Wyatt
Ryback explains that he needs to worry about himself and the spotlight needs to be on him, looking like a heel turn.
Sasha Banks vs Naomi
The first singles match of the night and it is 10:26 PM EST. This is the first time in a long time that there has been this many tag team matches on RAW. Tamina attempted to interfere in the match but Becky Lynch came out and saved Sasha.
WINNER: Sasha Banks via Bank Statement
Charlotte comes out in Nikki Bella like gear. I guess I am starting to enjoy Charlotte as a heel finally, it's natural in the Flair family.
Roman Reigns vs Sheamus
Reigns and Sheamus have a decent match. I enjoy the fact that this match didn't happen necessarily. Triple H walks out in a t-shirt and jeans ready to fight. Reigns gives Triple H a superman punch from the apron to the floor. Triple H does not want Roman to make it to WrestleMania, the crowd in Detroit is cheering for Triple H during this brawl. Triple H gives Reigns a pedigree on the steel stairs, Roman was bleeding. The Detroit crowd proved tonight that no fan wants to see Roman Reigns against Triple H.
WINNER: No Contest
After this episode of RAW , it is possible that the WWE is slowly making their way back to a different era outside of the PG Era. The censorship was used a few times tonight and blood was seen.
Top 3 Matches of the Night
1.) Neville and Lucha Dragons vs New Day
2.) AJ Styles and Chris Jericho vs Heath Slater and Curtis Axel
3.) No Match belongs in the 3rd spot but the opening segment can go in place here. WOW.

NEO Sports Insiders Newsletter
Sign up to receive our NEOSI newsletter, and keep up to date with all the latest Cleveland sports news.