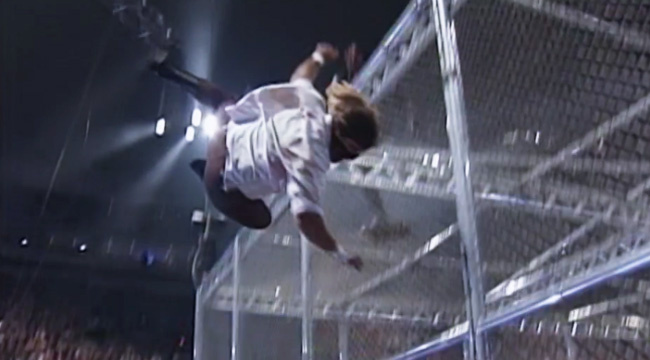 Twenty plus years since a Mick Foley leap made the Hell in the Cell famous, WWE is at it again tonight.  No longer is the spectacle a standalone match meant to boost a pay per view once a year, but rather an entire pay per view in itself.
Tonight, does boast a few must see matches however, and some that will be used for filler purposes.  Let's get right to it with some quick predictions on how it will all turn out in and out of the cage.
Daniel Bryan & Brie Bella vs The Miz & Maryse
I'm not exactly sure as to why the women are needed in ring for this one, but we will take it.  The WWE can still squeeze a lot of juice out of this feud and tonight will be far from the end of it.  For the ultimate payoff to be a Bryan victory, then his team needs to lose tonight.
Pick – Miz & Maryse
AJ Styles vs Samoa Joe for the WWE Championship
A singles match with no gimmicks because a feud this good doesn't need one.  Their chemistry dates back to TNA and cannot be denied.  Like the above-mentioned feud, this one is long from being over.
Pick – Styles by DQ
The New Day vs Aiden English & Rusev for the Smackdown Tag Team Championships
The split of Rusev and English is finalized tonight.
Pick – The New Day
Roman Reigns vs Braun Strowman for the WWE Universal Championship inside of a Hell in a Cell
Somehow, someway, rest assured, both The Shield and Braun's henchmen will find a way in the cell.  The WWE have butchered the way they have used Strowman since the Royal Rumble and it doesn't appear to be getting any better.  His push has been sacrificed at the temptation of bringing The Shield back.  Expect Foley to get knocked out, allowing the cage door to then be opened.
Pick – Reigns
Ronda Rousey vs Alexa Bliss
I do not think this will be the squash match the last one was.  Expect Bliss to get in a fair amount of offense here.  The result will be the same however as they build towards a Charlotte vs Rousey showdown down the line.
Pick – Rousey
Jeff Hardy vs Randy Orton in the Hell in the Cell
The real loser here is Shinsuke Nakamura.  The current United States champion is not on the card, and seems to be lost in the soup.  Hopefully we get a cool Jeff Hardy high spot.  The elements almost demand it.
Pick – Orton
Charlotte vs Becky Lynch for the Smackdowns Women's Championship
Expect this to be the best match on the card from bell to bell.
Pick – Lynch in a shocker
Dolph Ziggler and Drew McIntyre vs Seth Rollins & Dean Ambrose
This seems like a thrown together match, almost forced.  They should have held off on this one.
Pick – Ziggler & McIntyre