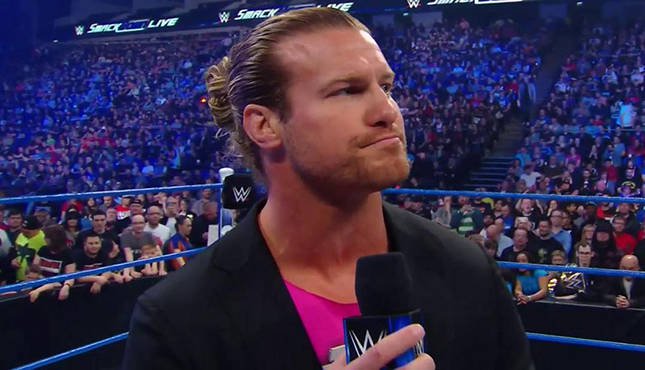 Tonight, was night one of the WWE Superstar Shake Up and several big Smackdown and also NXT names showed up on Monday Night RAW.  Some big surprises, some not so much.  Still a great show and should set up for an interesting Smackdown Live tomorrow.
Here is the list of former WWE Smackdown Live Superstars now on RAW as of tonight moving forward for the next year.
Jinder Mahal – He was a loser on RAW for years, before he became a multi time champion after a needed move to Smackdown 12 months ago.  Sure enough, his first night back on RAW results in him losing his United States title to Jeff Hardy.
This may not have been the best move in hindsight.  This will result in either IC champ Seth Rollins moving to Smackdown, or Jeff Hardy moving to Smackdown. We will find out tomorrow on that one.
The Riot Squad – They made their RAW debut with a shocking attack on Bayley and Sasha Banks.  This pretty much makes Mandy Rose and Sonya Deville moving to Smackdown tomorrow night a lead pipe lock.
Kevin Owens and Sami Zayn – Well it was either RAW or NXT, and as cool as it would have been to see them show up on NXT again, this was the much more logical choice, and much needed fresh start for both of them.  Another easy one to predict, but at the same time, sometimes predictable booking very well is the best booking. My only beef with it is Shane McMahon getting the best of them with no receipt given.
Breezango – Funny but irrelevant no matter what show they are on.
Natalya – Apparently, she is a face on RAW?
Dolph Ziggler and Drew McIntyre – This is excellent, both guys are at the top of their game and should be a force to reckon with.  While a lot of focus will be on the heel tandem of Owens ad Zayn, expect these two to do a share of damage as well.  This is one I didn't see coming, and I don't think anyone did.  It is excellent!
Baron Corbin – Talk about a guy who needed a fresh start, it is Baron Cobin.  The one-time MITB winner has seen his career stall out on the Blue Brand.  He needed this new night and roster to hopefully get something kick started.  RAW now having this many mid-level heels leads me to believe that several will be dealt to Smackdown tomorrow night.  The only thing that makes him interesting now is a possible feud with Strowman.
Bobby Roode – As predicted earlier today, this will be the perfect fit for Roode.  With a sudden overload of heels on RAW, Roode will be the babyface needed to do battle with several of them.  Even more so when you consider there is a good chance that either Jeff Hardy, Seth Rollins or Fin Balor will be leaving for Smackdown.  Again, it needs to be mentioned, with the heavy load of heels on RAW, Roode will have plenty of new storylines and possible feuds for the Glorious one.
Total count
4 women
1 Actual tag team
6 Heels (bad guys)
1 Babyface (good guy)