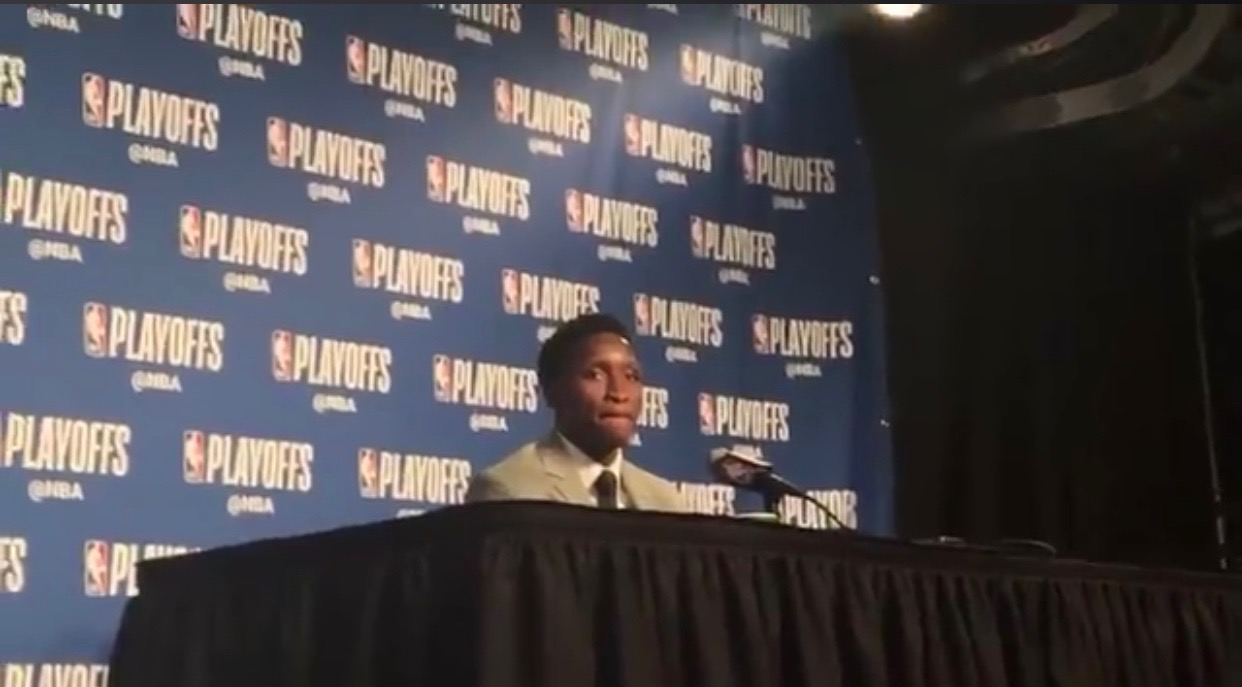 CLEVELAND, Ohio- Sunday afternoon was just a coming out party for the Indiana Pacers. After earning the fifth-seed in the Eastern Conference Playoffs, the squad had been written off as an afterthought. They were seen as just another team for LeBron James and the Cleveland Cavaliers to run through in the first round, a mere stepping stone in the power rankings.
After Game 1 in Cleveland, that surely isn't the case.
The Pacers picked apart the Cavaliers en route to a 98-80 road victory. While there were multiple guys to credit for the strong performance, one player stood out from the rest: Victor Oladipo.
Oladipo tallied thirty-two points on 11-of-19 shooting, adding six rebounds and five assists along the way. The fifth-year guard out of Indiana University had his way with Cleveland's defense, driving inside for easy baskets before stretching the floor for effortless three's. It wasn't the first time that Oladipo had such a showing this season and it was certainly not the first time the Cavs saw him do this. In four contests against Cleveland, Oladipo posted an average of twenty-five points, 4.7 rebounds, and five assists.
It's fair to say that most didn't see the breakout 2018 season coming for Oladipo, including Cleveland Cavaliers owner Dan Gilbert.
"I will say that Indiana could've done better than it did," Gilbert told the Cleveland media back in late-July while introducing new general manager Koby Altman. The Cavaliers had a deal in place to land George in a three-team deal including the Denver Nuggets but the trade was nixed by Indiana Pacers general manager Kevin Pritchard, who felt better going with Oklahoma City's offer. While Gilbert may have been frustrated that his team didn't net Paul George in the superstar sweepstakes, he provided a take that has since been made to look foolish.
Oladipo, who was joined by big-man Domantas Sabonis in the off-season exchange taking place between Indiana and Oklahoma City, has had a season that has been off the charts.
For starters, he was named an NBA All-Star for the first time in his career. He eclipsed an average of twenty-points or more for the first time, finishing with 23.1 points per game. Heck, Oladipo even concluded the regular season with twelve games of thirty-points or higher. For reference, he posted just ten games of thirty or more points in his first four years in the league.
After claiming three of four from the Cavaliers in the regular season, many still refused to give Oladipo and this scrappy Pacers team their rightful credit heading into this seven-game series. They certainly demanded some respect on Sunday with Oladipo leading the way.
"I thought he hurt us catch-and-shoot, off the ball, relaxing, not being aware," said Cavaliers coach Ty Lue on Oladipo's performance.
"I thought he played with a lot of confidence. I thought he made good decisions out there on the floor," Pacers hea coach Nate McMillan told the media following Game 1. "We talked about some of the things Cleveland would do, I thought he recognized those and did a good job of attacking. He's been a guy who's created a lot of things for us on both ends of the floor."
A lot of talk has been on the dynamic backcourt play of Oladipo and Darren Collison, as both have been a thorn in the defending Eastern Conference Champion's side. But Collison was held to six points and was forced to revert to other ways in hopes to impact the game. That naturally forced Oladipo to be even more aggressive than usual and he excelled. Cleveland's defense was on its heels in a halfcourt set all night wondering where the explosive guard was heading next.
"You look at Oladipo's threes, four of them were straight-up pushes as hard as he can and pull it, jacks it in your face and he's been making that all year.," LeBron James stated regarding the approach that Oladipo had in Game 1. "And that's not a scheme, that's just a great player making a great shot."
If you think Oladipo isn't aware of Gilbert's statement from this past summer, you're sadly mistaken.
"I'm aware. I already have fuel, you can say he added fuel to the fire I guess you can say but that was so long ago," Oladipo told reporter following Sunday's game. "I mean it came up recently obviously because we're playing the Cavs in this series but I'm aware of what he said, can't control his opinion. All I'm focused on is myself and becoming the best Victor Oladipo possible."
It was only one game in a long series. But if Cleveland can't find answers for Oladipo quickly, it could be an even longer series that ends in a less-than-ideal way.
For Pritchard and company, forcing Gilbert to eat his own words would be the icing on the cake.