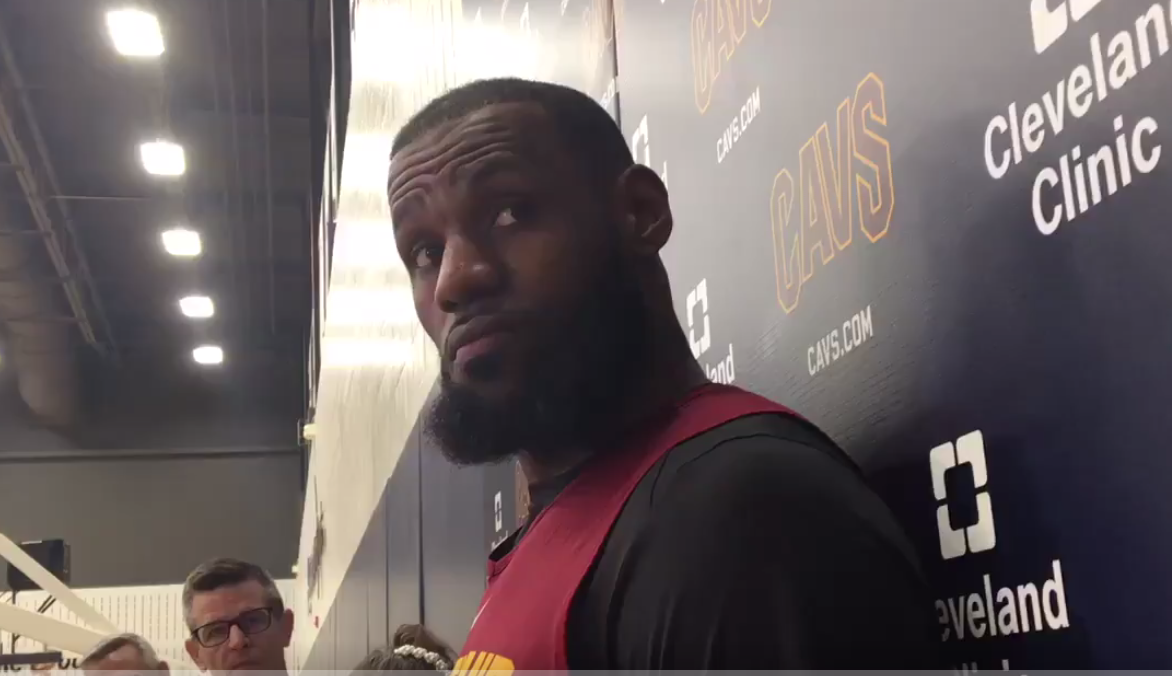 INDEPENDENCE, OHIO– LeBron James hasn't yet seen the three billboards along I-480 that are urging him to sign with the Philadephia 76ers this summer, but he's heard about them and considers them to be a compliment.
"You can say it's a distraction, it's not," James said at Tuesday's shootaround ahead of the Cavaliers' game against the Brooklyn Nets. "Not a distraction. It is actually very flattering that I'm sitting here at 33 and in my 15th year and teams or guys– I don't want to say teams because that becomes tampering– but people in their respective city want me to play for them. That's cool I think. That's dope."
The billboards were paid for by a private Pennsylvania company. The first one is of a basketball court with the numbers 25 (Ben Simmons), 33 (Robert Covington), 9 (Dario Saric), 21 (Joel Embiid) and 23 with a crown, which would be  James. The next second one says "complete the process," a play on Embiid's "trust the process" slogan. The final one simply has the hashtag #PhillyWantsLeBron.
James has a player option for next season, which would allow him to become a free agent. James has repeatedly said that he will not deal with his impending free agent status until the season concludes. It seems that he is taking this latest stunt in stride, however. When asked if he had been down I-480 in the last two days, he answered with a joke.
"I have not but I know all about it, there's a lot of potholes on 480, you gotta be careful with the cars," he said. "Gotta be very careful. That's why I don't do much driving. I sit in the backseat. You talking about the billboards though?
"I heard about it. I didn't talk to y'all yesterday, but seen it before that just in case I saw y'all."
LeBron asked about those 3 Philly billboards, "I know all about it, there's a lot of potholes on 480." He then says he knows about them, and that it is flattering "that I'm sitting here at 33 in my 15th year … that people in their respective city want me to play for them." pic.twitter.com/TrKUDbq34a

— Ashley Bastock (@AshleyBastock42) February 27, 2018