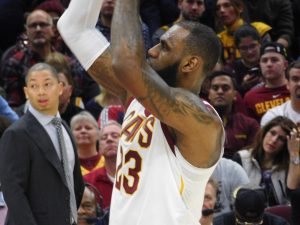 2. The comeback
The Cavs were down by 15 entering the fourth quarter and went on to outscore the Knicks 43-25. In fact, with just over two minutes left to go in the third quarter, they faced a 23-point deficit but went on to outscore the Knicks 54-28 down the stretch.
Overall in the fourth quarter, the Cavs showed more urgency on the defensive end, and for once, didn't run out of gas down the stretch. LeBron James (three blocks) and Channing Frye (two blocks) did a good job of not allowing Kristaps Porzingis or Enes Kanter to go off and get New York back in the game.
Offensively, Cleveland went 14-of-26 from the field in the fourth quarter. They also had 14 total assists in the second half compared to just seven in the first. The fact that they played as a team, (and again, had the benefit of Korver creating such a disruption for the Knicks) was huge down the stretch.