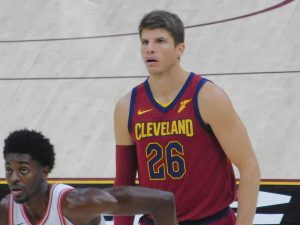 1. Kyle Korver's fourth quarter
Korver came through huge in the final frame for Cleveland. He exploded for 19 of his 21 points in the quarter and hit five three-pointers. Prior to the last 12 minutes, Korver was 0-of-4 from deep, but he was still able to turn it around and tied a career-high for points in a single quarter.
The Cavs struggled up until pretty much the last quarter with making 3-pointers, and even had 15 misses from deep at the half.
Once Korver started hitting, however, it completely turned the tide of the game. The Knicks' defense had to actually start working to defend him on the perimeter, and his shooting altered spacing and became contagious.
What's more, Monday was the second straight game that Korver took over in the fourth quarter. On Saturday in Dallas he scored all 13 of his points down the stretch to help cement a win.