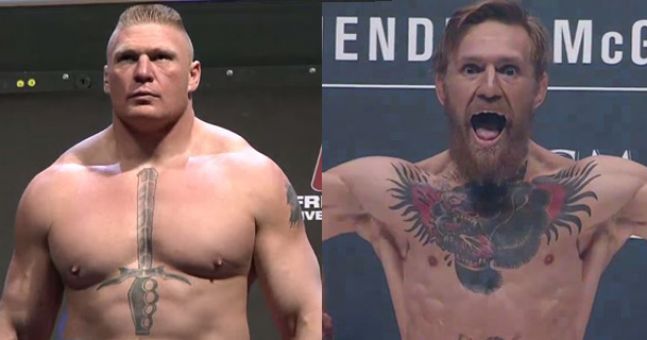 Always outspoken UFC fighter Conor McGregor is speaking out about UFC/WWE star Brock Lesnar, after 'The Beast' was hit with a doping violation from a test a week before his fight at UFC 200.
McGregor, who was on a conference call to promote UFC 202, gave it not only to Lesnar, but also to wrestlers in general.
"For the most part, those WWE guys are p**sies," McGregor said via TMZ. "They're messed up p**sies if you ask me."
Then McGregor laid into Lesnar, who is set to fight Randy Orton at WWE SummerSlam on August 28th in Brooklyn, NY.
"I mean fair play to Brock, he got in and fought [at UFC 200] … but at the end of the day he's juiced up to the eyeballs … so how can I respect that?"
There was questions as if to the WWE would allow Lesnar to fight in the event due to the doping violation, but the company basically brushed it off stating since Lesnar had not fought in WWE since April, it wasn't going to stop him from wrestling at SummerSlam.
"Brock Lesnar has not performed for WWE since WrestleMania," which was held in April, "and is not scheduled to return until Sunday, August 21," WWE officials said in a statement released to FOX Sports.
As for McGregor, he'd better watch walking down a dark alley near arenas WWE stars are performing in the near future.