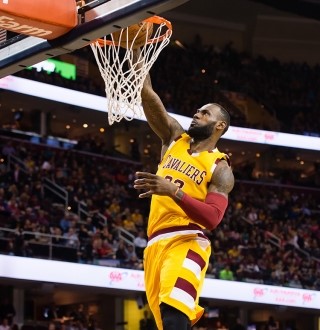 The Cleveland Cavaliers returned to action on Monday night, hosting the Atlanta Hawks at Quicken Loans Arena.
It was an even first half, but the Cavs came out of the gate after halftime with energy and a purpose, to clinch home court advantage throughout the Eastern Conference Playoffs, with a dominant 109-94 win.
Atlanta jumped out to an early 10-0 lead, but LeBron James got the Wine and Gold going.
That's how you get things going for the @cavs, @KingJames. #CavsHawkshttps://t.co/s8upCPoMHd https://t.co/qMpiJK2mVg

— FOX Sports Ohio (@FOXSportsOH) April 11, 2016
He would score the Cavs' first eight points, including two three-pointers, to make it a four-point game.
The Hawks would stay in control for the rest of the quarter, leading 26-22 after one. Kent Bazemore led his team in scoring with 10 points in the quarter, while Kyrie Irving scored 12 for the Cavs.
It was a back and forth second quarter, as Bazemore kept up his great evening, hitting 7-of-8 field goal attempts to start the game.
Kevin Love joined in on the action after a scoreless first quarter, knocking down back-to-back three pointers to help the Cavs lead 45-43 with 3:04 to play in the half.
LeBron followed that up with a trademark chase down block, which prompted the Cavs to extend the lead to as many as eight points.
The Cavs would head into halftime leading 51-45.
The Hawks were led by Bazemore's 21 points, while LeBron scored 15 and Irving put up 14 for the Cavs in the half.
The Cavs came out firing in the third quarter, outscoring Atlanta 39-30 to increase their lead to 90-75 heading into the fourth.
LeBron scored 19 points in the third quarter alone, two of which came courtesy of this ridiculous jam.
Cleveland was one quarter away from clinching the #1 seed in the East and they kept up the great second half to seal the deal and win 109-94.
LeBron finished the night with 34 points and six assists.
Love posted a double-double with 10 points and 14 boards.
Irving tied his season-high in scoring with 35 points.
Bazemore, who scored 21 in the first half, was held to just two points after halftime.
Al Horford scored 20 points, grabbing 11 rebounds, and Jeff Teague contributed 21 points to go with nine assists.
The Cavs improve to 57-24 and now will have the luxury of resting some key players, including LeBron in the final regular season game on Wednesday against the Detroit Pistons.