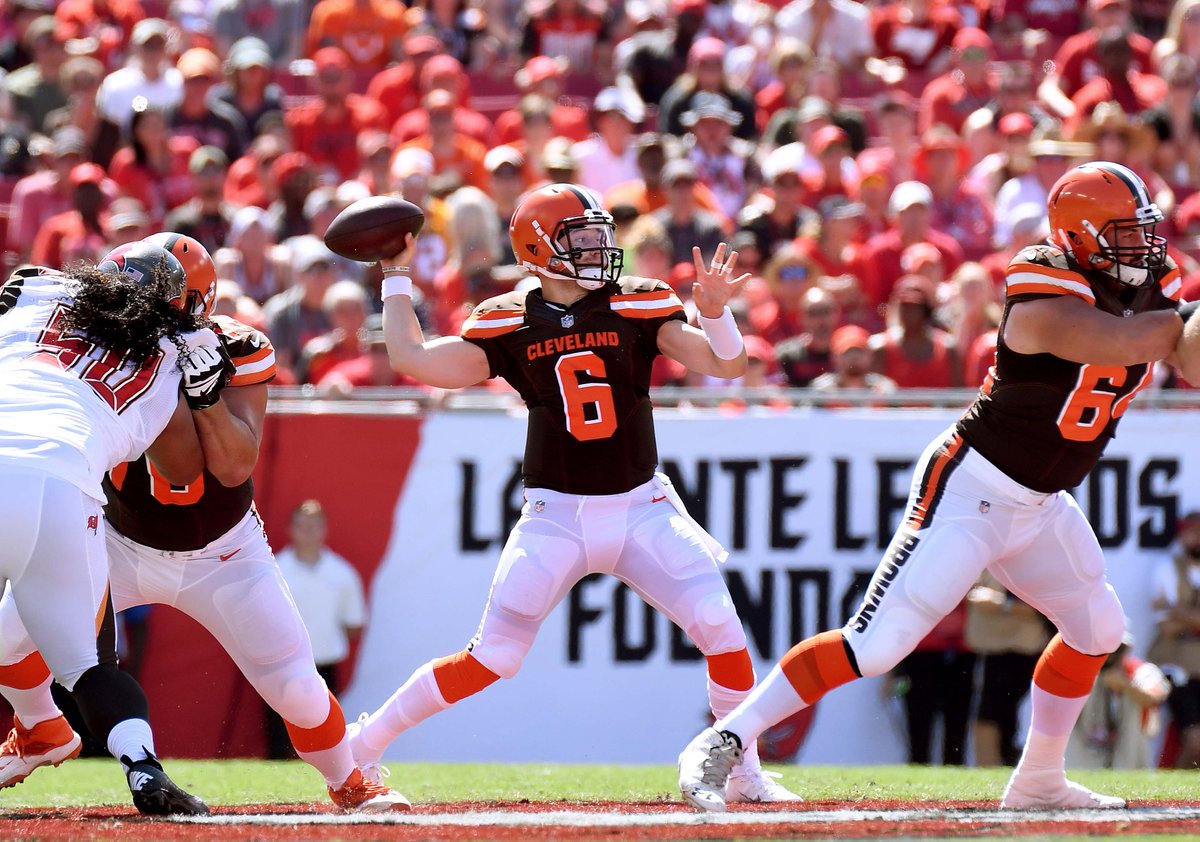 It was one of the most insane calls of the 2018 season, but at this point, it is something that Browns fans are probably use to.
The play of course was the hit on Browns rookie quarterback Baker Mayfield in the fourth quarter of the Browns 26-23 overtime loss Sunday to the Tampa Bay Buccaneers, a hit that looked like live and on replay should have been 15 yards for a helmet to helmet hit.
It was a 15-yard penalty – at least at first.
That is until the officials picked up the flag, making one of the most mind boggling calls that it seems like has ever been made, stating that Mayfield was 'allowed to be hit in the head.'
"There's a lot of emphasis being put on protecting the QB. Doesn't seem like the Browns are getting a lot of calls," Mayfield said after the game.
Here's the original play in which the penalty was called.
.@bakermayfield turns on the jets!#CLEvsTB pic.twitter.com/cRkV0LKl08

— Cleveland Browns (@Browns) October 21, 2018
Here's a closer look at the hit by Buccaneers Jordan Whitehead, who clearly hit Mayfield in the head without question.
The #NFL picked up this flag in the #Browns game after stating Baker had not yet begun his slide and therefore was "allowed to be hit in the head"?… Yet here is clear helmet to helmet head hunting. What a sham of a league. pic.twitter.com/DX3TwhoN0J

— Paul Congiusta (@ShiftyJuice) October 21, 2018
Here's the official with the unreal explanation on the call:
REF STRAIGHT UP SAID BAKER WAS ALOUD TO BE HIT IN THE HEAD! What is going on @Reflog_18? pic.twitter.com/SJk83yZ6fl

— ??Crusty Old Dean? (@DFSBBallGuy) October 21, 2018
After the game, Mayfield chatted with the media about the call.
#Browns QB Baker Mayfield with his thoughts on the helmet-to-helmet no call against the #Buccaneers pic.twitter.com/6TlyIv2JW1

— Owen Lademann (@OwenOnTheBoard) October 21, 2018
The call did not sit well with Browns fans, who took to Twitter to voice their displeasure.
@NFL @bakermayfield Would someone care to explain to those of us who suffer week to week day to day as Browns fans how in the world it is ok to hit a quarterback in the head just because he is running the ball?! That came straight from an NFL Referee's mouth #BrownsvsBucs #OverIt https://t.co/AY737bWs9r

— Trenton Lightle (@trentonlightle) October 21, 2018
@NFL Helmet to helmet hits on @Browns @bakermayfield are okay? Penalty called, then reversed. Refs are terrible this season. #trash #CLEvsTB pic.twitter.com/oVapigwwOx

— Gerald Mansfield (@sd6collectibles) October 21, 2018
"The quarterback was still a runner and therefore is allowed to be hit in the head. He had not yet begun his slide. There is no foul," hey @NFL, @bakermayfield is "allowed to be hit in the head"??? Uhhhhhh wut? @Browns pic.twitter.com/sMoPHRk3ed

— Rich Lowe (@RLowe091) October 21, 2018
@Browns @bakermayfield The NFL refs continue to disappoint this season! Obvious helmet-to-helmet hit, but it's just the Browns so don't worry about OUR quarterback! ? #Browns #CLEvsTB pic.twitter.com/tVmgF5Mnud

— Jamie Cress See (@JamieSee) October 21, 2018
But Baker Mayfield was a runner so "he's allowed to be hit in the head" get tf outta here @NFL @NFLOfficiating #browns pic.twitter.com/JwjwRv9AcG

— Allie (@AllieM1993) October 21, 2018
@nfl is ridiculous! Shame on you @nflcommish. #Browns dirty hit on Baker Mayfield to the head! Pathetic! If that's Tom Brady it's called. Bullshit!!!! pic.twitter.com/jdZP80LZdq

— Jeff (@uxcle) October 21, 2018
How is a hit to the head legal simply because Mayfield was running? That looked like clear targeting. Still nice play by Baker gives #Browns a decent scoring chance.

— Adam Copeland (@exiledclevelndr) October 21, 2018
I can't wait for @NFLOfficiating to explain that Baker mayfield hit

— Carmen podojil (@CarmenPodojil) October 22, 2018
Oh yeah that was DEFINITELY a targeting call the refs missed on Baker Mayfield. I was at the game and the ref said:

"The QB was still considered a runner so there for he is able to be HIT IN THE HEAD…."

…all #Browns fans in the stadium. Like how ref? How?? pic.twitter.com/VmOnk39iyI

— GeAndra. (@geandraimani) October 21, 2018